Dr. Christiana Koundourou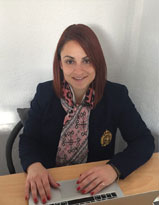 POSITION
Scientific Collaborator in the Department of Psychology
CONTACT DETAILS
Telephone: +357 2684 3421
Email:
c.koundourou@nup.ac.cy
BIOGRAPHY
Dr. Christiana Koundourou is a Scientific Collaborator in the department of Psychology at Neapolis University in Cyprus. She received a PhD in Education / Special Education from the University of Birmingham in England, a Master's Degree in Professional Development in Special Education from the University of Nottingham in England and a first degree in Special Education Studies from the University of Essex in England. She worked as a Special Needs Teacher in a Private School in Paphos. She also worked as a Visiting Lecturer at the University of Nicosia in undergraduate and postgraduate level programs, in the Department of Education Studies, with specific focus on Special Education. Her main research interests focus on issues related in the field of Special Education. In particular how we can assist and support children with special educational needs (learning difficulties, social, emotional and behavioral difficulties, mental disorders/ autism, and physical / motor difficulties) in the classroom and in special units, how we can enhance educational practices and structures in order to support teachers and special educators with their teaching practices, setting up and delivering educational programs in order to enhance children that require special education support and inclusive practices / intercultural education.
She has publications and conference presentations. She is a member of the Pancyprian Dyslexia Association.
EDUCATION
2007 – 2011 PhD in Education, University of Birmingham, UK
2006 – 2007 Ma in Professional Development in Special Needs, University of Nottingham, UK
2003 – 2006 Ba (Hons) in Special Education Studies, University of Essex, UΚ
PREVIOUS EMPLOYMENT
2013 – 2016 Part Time Lecturer, University of Nicosia, Cyprus
2011–2014 Special Needs Teacher, Private American School of Paphos, Cyprus
2011 – Today Special Needs Teacher in Private Practice, Cyprus
PUBLICATIONS
Koundourou, C. (2012). Developing staff skills through emotional literacy to enable better practices with children with SEBD (social, emotional and behavioural difficulties). in Visser, J., Danniels, H., Cole, T. (2012). Transforming Troubled Lives: Strategies and Interventions for Children with Social, Emotional and Behavioural Difficulties, International Perspectives on Inclusive Education, Vol 2, Emerald Books, United Kingdom.