Dr. Konstantinos Tsagkaridis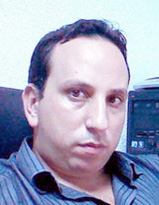 POSITION
Lecturer in Experimental Psychology
CONTACT DETAILS
Telephone: +357 2684 3604
Email:
k.tsagkaridis@nup.ac.cy
BIOGRAPHY
Dr. Konstantinos Tsagkaridis is a Lecturer in Psychology at Neapolis University, Pafos. He was awarded a PhD from the University of Edinburgh (2011). Before that, he received his Masters in Neuropsychology from the University of Bristol (2007). His postgraduate studies were funded by a scholarship from IKY (Hellenic State Scholarships Foundation).
Before joining NUP, he worked as a postdoctoral researcher in Moss Rehabilitation Research Institute (Philadelphia, PA, USA), from February 2012 to February 2013.
He has also taught Neuropsychology and Research Methods at the University of Cyprus, where he held the position of Visiting Lecturer (Sept.-Jan. 2011) before going to USA. His teaching experience also includes teaching Statistics as a tutor at the University of Edinburgh, at all undergraduate levels.
His research focuses on the interactions between perception and action. His main research interests lie in the area of Visual Cognition and specifically semantics and action effects on visual perception. His previous research findings included significant conclusions about the effects of action affordances on object perception in naturalistic real-world scene viewing tasks. He has also tested the role of action in object associations, in brain damaged patients and healthy controls.
EDUCATION
2010 PhD in Cognitive/Experimental Psychology, University of Edinburgh, Edinburgh, UK
2007 MSc in Neuropsychology, University of Bristol, Bristol, UK
2004 Ptychio (BSc) in Psychology, Aristotles' University of Thessaloniki
PREVIOUS EMPLOYMENT
2013- Lecturer, Neapolis University Pafos, Cyprus
2012-2013 Post-doctoral Researcher, Moss Rehabilitation Research Institute (MRRI), Einstein Healthcare Network, Philadelphia, PA, USA
2011-2012 Visiting Lecturer, University of Cyprus, Cyprus
2011 Research Associate, University of Edinburgh, Edinburgh, UK
2010-2011 Research Assistant, University of Edinburgh, Edinburgh, UK
2007-2008 Tutor, University of Edinburgh, Edinburgh, UK
SELECTED PUBLICATIONS / RESEARCH
Tsagkaridis, K., Watson, C., Jax, S. & Buxbaum, L. (2014). The role of action representations in thematic object relations. Frontiers in Hunan Neuroscience, 8:140.
doi: 10.3389/fnhum.2014.00140
Tsagkaridis, K. (2012). Action Affordance Influences on Eye-Movements and Object Prioritization in Real World Scenes. VSS abstracts – Journal of Vision, 12 (9), article 1257.
 Research methods & Research tools

Methodology: Eye-tracking (experience with both desk- and head-mounted Eye-Link 1000 and 2000 eye-trackers), Motion tracking, Structural MRI (VLSM), Psychophysics, Behavioral analyses
Computer skills:SPSS, Photoshop, E-prime, SR-Research: Experiment Builder, R, Voxbo & MRIcron.
Statistical expertise:ANOVA, t-tests and other parametric and non-parametric tests of significance, Regression (including multivariate & mixed modeling), Statistical Modeling (Principal Components Analysis & Structural Equation Modeling), Signal Detection Theory (SDT)
Psychometric Tools: Wechsler's Intelligence Test for children (Wisc-III)

Professional Memberships & other experience
Kostas Tsagkaridis is a member of the Vision Sciences Society (VSS), the Cognitive Neuropsychological Society (CNS) and the British Psychological Association (BPS).He has undergone training and worked in non-academic environments (such as the Hippocratic General Hospital of Thessaloniki and the Psychiatric Ward of the Central Military Hospital of Cyprus in Nicosia). He also has experience with volunteer activities of communicating science to the public.