Dr. Marilena Mousoulidou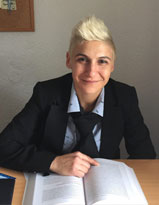 BIOGRAPHY
Dr Marilena Mousoulidou is a Scientific Collaborator in the Department of Psychology at Neapolis University. She received her PhD in Cognitive Psychology from the University of Leicester, UK (2009) focusing on children's language comprehension. Before that she received her BSc in Psychology from University of Derby, UK.
She has worked as a part-time lecturer at different universities in Cyprus, teaching a variety of psychology modules for undergraduate and postgraduate students. Her research interests lie in two main research directions. The first concerns cognitive and developmental psychology with specific focus on the developmental course of language skills in children, the development of reading comprehension in children, and the study of teaching methods that will enable young comprehenders to achieve their full potentials. The second concerns aspects of forensic psychology, with specific interest in aggression, victimization and bullying. Dr. Mousoulidou took part in many professional conferences where she presented her research.
EDUCATION
2009 PhD in Cognitive Psychology Leicester University, UK
2004 BSc in Psychology Derby University, UK
PREVIOUS EMPLOYMENT
2014-2015 Visiting Lecturer, Neapolis University Pafos
2011-2015  Part-time Lecturer, Varna Free University (Cyprus Campus)
SELECTED PUBLICATIONS / RESEARCH
Mousoulidou, M. (2015). Are Criminals Born or Made? Paper presented at the First Pancyprian Conference of Criminal Law and Criminology, 6-7 March, 2015, University of Nicosia, Nicosia: Cyprus.
Mousoulidou, M, & Paterson, K. B. (2015). Interpreting Numerically Quantified Noun-Phrases: Evidence for Children's Difficulty with Reference Resolution. Poster presented at the 19th ESCOP Conference, 17-20 September, 2015, Paphos: Cyprus.
Mousoulidou, M., & Paterson, K. B. (2008a). Referential Processes in Children's Sentence Comprehension: Evidence from Quantified Noun-Phrases. Poster presented at the 21st CUNY Conference on Human Sentence Processing, 13-15 March, 2008, University of North Carolina, Chapel Hill: NC.
Mousoulidou, M., & Paterson, K. B. (2007). Children's and Adults' Interpretations of Referential Ambiguities. Poster Presented at the Edinburgh Meeting, 4-7 July, 2007, Edinburgh: UK.
Paterson, K. B., Filik, R., Mousoulidou, M., Baliusis, M., & Moxey, L. M. (2008). Interpreting Quantifiers in Context. Paper presented at the 14th Annual Conference on Architectures and Mechanisms for Language Processing, 4-6 September 2008, Cambridge: UK.