Prof. Chrysanthy Tsioumi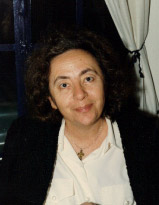 POSITION
Professor in Theology
CONTACT DETAILS
Telephone: +357 2684 3339
Email: 
x.tsioumi@nup.ac.cy
BIOGRAPHY
Chryssanthi Mavropoulou Tsioumi studied history and archeology at the Philosophical Faculty of the Aristoteleion University of Thessaloniki and history of art at Heidelberg (Germany) thanks to a scholarship of the Alexander von Humboldt Stiftung.
In the year 1965 became Curator for Byzantine Antiquities of Western Macedonia and from 1969 to 1975 was a research fellow of the Patriachal Institut for Patristic Studies at Vlatadon Monastery for the study of byzantine illuminated manuscripts of Mount Athos.
In 1974 she gained her doctoral degree from the Philosophical School of Thessaloniki and then became Ephor for Byzantine Antiquities of Thessaloniki (Central Macedonia) for restoration, conservation and study of byzantine monuments and also exhibitions and museums. Since 1986 to 2006 she has been professor of Museum Education at the Pedagogic Faculty of Aristoteleion University (Thessaloniki) and dean of the Faculty. From 2006 she is emeritus professor of this University.
She has published 14 books and 120 articles on various aspects of early Christian, Byzantine and post-Byzantine art.
SELECTED PUBLICATIONS / RESEARCH
Hagia Sophia, The Great Church of Thesaloniki, Athens 2014.
Μosaics of Thessaloniki, Athens 2012
Holy Stavronikita Monastery. Illuminated Manuscripts, 2 vol. Mount Athos 2007-2008.
Byzantine and postbyzantine Icons of Veria, Thessaloniki – Veria 2003