Prof. Constantin (Costas) Halatsis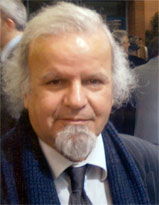 BIOGRAPHY
Constantin (Costas) Halatsis was born in Athens, Greece, in 1941. He received his B.Sc. degree in Physics in 1964 and his M.Sc. degree in Electronics in 1966, both from the University of Athens. In 1971 he received his Ph.D. degree in Computer Science from the University of Manchester, UK. From 1971 to 1981 it worked as researcher in the Centre of Computers of NCSR Demokritos, Greece, from where he retired as the Director of the Centre. In 1981 were elected Full Professor in the chair of Computers of the Department of Physics of the Aristotle University of Thessaloniki and in 1988 he was invited as Full professor in the Department of Physics University Athens. A year later he moved to the newly established Department of Informatics of the University of Athens, which in the year 2000 the Department was renamed as Department of Informatics and Telecommunications (see http://www.di.uoa.gr). Professor Halatsis served the Department until August 2008, and since then he is an Emeritus Professor of the Department. At the same time and for the period 1988-93 he was elected Director of the Institute of Informatics and Telecommunications of the NCSR Demokritos. Also at intervals and for three years in total he worked as visiting Scientific Associate in the Data Handling Division of the European Organization for Nuclear Research CERN in Geneva, Switzerland, where he designed and built advanced Hardware processors and innovative Software. Also, during the academic year 2007-08 he has been visiting Professor in the University of Cyprus and the Open University of Cyprus. Prof. Halatsis has taught a large number of different courses at the undergraduate and postgraduate levels and it has supervised the doctoral thesis of many students, some of which are today Professors in Greek Universities. It has been financed for several European and national research programs and he has compiled and publishes in international journals and conference proceeding more than 150 technical papers after peer review and he has enjoyed international recognition. His main research area is that of Computer Architecture, both at the single processor level and that of multiprocessor systems (Von Neumann and non Von Neumann types of Architecture) for high performance computing and networking, HPCN. Also he has conducted research in several other areas of CS, the main of which are in the areas of Artificial Intelligence (Logic Programming, CLP), Software Eng, e-government, e-learning (affective computing). His recent personal research activity is focused in fundamental open theoretical problems in Computer Science, continuing at the same time research on previous subjects. In the R&D side his recent activity is focused in the use of Virtual Reality for Cultural applications and on issues of Electronic Governance, e-gov, eID and Data Warehouse. Prof. Halatsis has served at various academic positions, he has participated in a number of international and national committees and councils, and he has served as member in many international and national evaluation committees for academic positions and R&D proposals. He has studied and designed large projects of national and international Information Systems and has contributed decisively in the growth and operation of the Faculty of Science and Technology of the University of Peloponnese, GR. Currently, Professor Halatsis is with the Neapolis University Pafos of Cyprus in setting up a School of Information Sciences for offering BSc and MSc studies respectively in the fields of Applied Informatics and Information Systems .
EDUCATION
1964: B.Sc. in Physics, University of Athens, GR
1966: M.Sc. in Electronic, University of Athens, GR
1971: Ph.D. in Computer Science , University of Manchester (UMIST), UK.
PREVIOUS EMPLOYMENT
Dean of Faculty of Sciences in the Aristotle University of Thessaloniki, GR
Chairman of Department in the University of Athens and in the University of  Peloponnese, GR
Member of Senate of the University of Athens and of the Aristotle University of  Thessaloniki, GR.
Director of the Institute of Informatics and Telecommunications, NCSR Demokritos, Athens, GR.
Chairman of the Department of Informatics and telecommunications, University of Athens, GR
Head of Division of Computing Systems and Applications of the Department of Informatics and telecommunications, University of Athens, GR
Chairman and member of several academic councils and delegates, GR, CY, EU
Director of the Computer Centre Facilities of the University of Athens, GR