1st International Summer school of Greek Language, History and Culture
The Modern Greek Course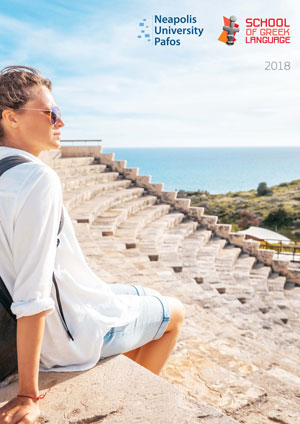 The Summer School of Greek Language, History and Culture of Neapolis University in Cyprus is addressed to young people from Cyprus, Greece, Greek diaspora as well as to international students, between 15-40 years old, who wish to make an introduction and deepen their knowledge on the Greek Language, History and Culture. The courses will be held at Neapolis University in Cyprus, and will take place for two weeks between 09 to 22nd July 2018. Academics from the Neapolis University and special associates coming mainly from the academic field will do the teaching. The weekly program of the Summer School will include guided tours of the island's cultural attractions, experiential activities and excursions.
Lessons will be held during morning time, from Monday to Friday 08:00-13:30pm and cultural activities will take place during the afternoon time.
Teaching will be divided into seven fields:
Teaching the Greek Language (for non-Greek speakers) and Greek poetry and literature (for Greek speakers)
Teaching Greek and Cypriot History (Ancient, Byzantine, Modern)
Teaching Archaeology, Mythology and Ancient Theatre
Teaching Cypriot traditional dances
Cypriot traditional music
Robotics and Culture
History and Culture under the umbrella of Digital Video Production
The program includes:
Lectures and experimental seminars focusing on ancient, medieval, modern and contemporary Greek and Cypriot history, Modern Greek and Cypriot poetry and literature, production and understanding of written and spoken language, as well as Cypriot traditional music.
Two all – day tours with guides in Pafos and Limassol. Among other things, visits will be made: a) to the Pafos Archaeological Museum, b) Pafos Archaeological Park with the famous mosaics, c) Aphrodite's Baths, d) Palaepafos-Kouklia Museum, e) Tombs of the Kings, f) The Kourion Archaeological site, g) The Kolossi Medieval Castle, h) The Limassol Medieval Museum, i) Amathus Archaeological Site, and many other monuments.
After the course, students will be able to freely form their program, e.g. visiting beaches, sightseeing, etc.
CLARIFICATIONS:
Groups should not exceed 15 people each in any case.
Upon completion of the course, students will receive a certificate that will evaluate their performance. Students who are absent for more than 1/3 of the courses will not receive a Certificate.
In the Library of the University (located in the same building as that in which the lessons will be held), students will find a rich collection of the dictionaries and aids, as well as books that have as their content the history, language and culture of Greece and Cyprus. Also, in the University's computer rooms, the students can work using the compact discs that accompany the books.
For the accommodation of the students, double rooms in the University Campus will be available. No extra payment is required for the accommodation while it is included within the school costs.
Neapolis University provides foe third-party liability insurance but does not provide travel insurance (with health insurance) which students MUST obtain from their place of origin.
Students may apply for a 1 or 2 week program (9-15 July or 9-22 July)
School cost (including accommodation): 750 euros for one week and 1500 euros for two weeks. The cost without accommodation: 375 euros for one week and 750 euros for two weeks.
Date of final application: 15 June 2018.
Reserved places will be prioritized. Reservations can only be made by payment of an advance of 30% of the total. The remaining amount must be paid 2 weeks before the beginning of the Summer School.

The Program
Duration: 2 weeks | Period: 9-22 July 2018 (they may choose to participate only one week)
Relating fields: Archaeology, History of Art, Classics and History (preferably with emphasis in Ancient and Medieval periods)
Number of participants: 15-20
Registration period: 1st April 2018 – 15th July 2018
Registration fee*: € 50 (non-refundable, unless the application is rejected by the Committee). Reservations can only be made by payment of an advance of 30% of the total amount. The remaining amount must be paid 2 weeks before the beginning of the Summer School.
Contact: stavros.christodoulou@nup.ac.cy