Charalampos Chrysomallidis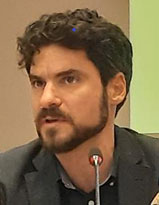 POSITION
Lecturer in Public Policies
General Coordinator of the MPA
CONTACT DETAILS
Telephone: +357 2684 3300
Email:
c.chrysomallidis@nup.ac.cy
BIOGRAPHY
Charalampos Chrysomallidis is an Economist and Lecturer in Public Policies at the Neapolis University Pafos, holding a PhD in Political Science and European Studies from University of Athens. He received BSc in Economics and MSc in European Science from Athens University of Economics and Business. Charalampos Chrysomallidis has taught as Adjunct/Visiting Lecturer at University of Athens, University of Piraeus and the National Centre for Public Administration and Local Government. Since 2018 he has taught the module "Public Economics/Welfare Economics" at Neapolis University Pafos (Distance Learning Postgraduate Programs).
His areas of specialisation and research interests are public policy, research-technology-innovation sector, regional development and European integration. Dr. Chrysomallidis has published scientific articles, book chapters in edited volumes, reports and working papers, and he has also participated in several research projects and conferences. Amongst others, he has worked in the past as Scientific Advisor at the General Secretariat for Research and Technology (Greece) and at the National Documentation Centre (Greece).