Dr. Dario Pontiggia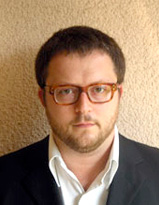 POSITION
Assistant Professor in Economics
CONTACT DETAILS
Telephone: +357 2684 3411
Email:
d.pontiggia@nup.ac.cy
BIOGRAPHY
Dario Pontiggia holds a Ph.D. in Economics from Glasgow University and a Doctorate in Political Economy from the University of Milano –Bicocca. He also holds a Master's Degree in Economics from the University of Edinburgh. His postgraduate studies have been funded by the Italian Ministry of Education, University and Research and by the Faculty of Law, Business and Social Sciences of the University of Glasgow.
Dario's research focuses on dynamic and stochastic general equilibrium models and, specifically, on the design of optimal economic policy as well as the transmission of economic policy to the real economy. More generally, he is interested in economic behaviour and the incentives and disincentives that shape it. He presents his research output in conferences and seminars and acts as a reviewer for international journal as well as for peer-reviewed conferences.
Dario has also acquired vast teaching experience, having taught over the years at both undergraduate and postgraduate level at the University of Glasgow, the University of Strathclyde, and the University of Milano-Bicocca, as well as Neapolis University. As an instructor, he applies methods of teaching that are interactive and encourage students to trust their opinion. He strongly believes that students are most motivated to learn when they can see the connection between what they are being taught and their own lives.
SELECTED PUBLICATIONS / RESEARCH
Publications
A Note on Intrinsic Inflation Persistence and Optimal Long-run Inflation, Journal of Reviews on Global Economics, 5, 248-253, 2016.
Optimal Long-run Inflation and the New Keynesian Model, Journal of Macroeconomics, 34 (4), 1077-1094, 2012.
The Relationship between Agency Problems and Ethical Leadership (with John Politis, Neapolis University Pafos), Proceedings of the 8th European Conference on Management, Leadership and Governance (Pafos, Cyprus, 08–09 October 2012), pp. 340-346.
Columns