Dr Diotima Papadi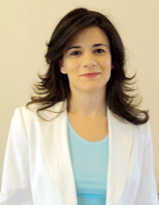 BIOGRAPHY
Dr Diotima Papadi is a Lecturer in Classics. She holds a BA in Classics from the University of Cyprus, for which she received the prestigious Prize of the President of Cyprus, an MPhil. in Classics from the University of Cambridge, and a doctoral degree from University College London. As a member of the International Plutarch Society she has taken part at several conferences and seminars, and published papers in miscellaneous collections. Her principal research interests have been in Greek Literature in Imperial Times, especially Plutarch, Greek Tragedy and its reception, Greek and Roman Biography, and Greek Philosophy.
EDUCATION
PhD in Classics, University College London
Thesis title: "Tragedy and Theatricality in Plutarch"
MPhil in Classics, University of Cambridge
BA in Classics, University of Cyprus
EMPLOYMENT HISTORY
2008 –                   Neapolis University Pafos: Lecturer in Humanities/ Senior Admissions Tutor
2007 – 2009          Honorary Research Associate, University College London
2007 – 2008          Language Coordinator, King's College London
2001 – 2007          Postgraduate Teaching Assistant, University College London
SELECTED PUBLICATIONS / RESEARCH
"The Educational Role of Poetry: Plutarch reading Homer" in Manolea, Ch.-P. (2015) (ed.), Brill's Companion to the Reception of Homer from Hellenistic Age to Late Antiquity (forthcoming).
Review of R. Hunter, D. Russell (edd.), Plutarch. How to Study Poetry (De audiendis poetis), Cambridge: Cambridge University Press, 2011 in CR 63.1 (2013), 84-85.
"Moralia in the Lives: Tragedy and Theatrical Imagery in Plutarch's Pompey", in A. G. Nikolaides (2008) (ed.), The Unity of Plutarch's Work. 'Moralia' Themes in the 'Lives', Features of the 'Lives' in the 'Moralia' (Millenium Studies, vol. 19), Walter de Gruyter (Berlin/New York), 111-123.
"Theatricality and dramatic vocabulary in Plutarch's Moralia – How to tell a flatterer from a friend", in M. Jufresa, et al. (2005) (edd.), Plutarc a la seva època: Paideia i societat (Barcelona), 401-411.