Prof. Julia Georgi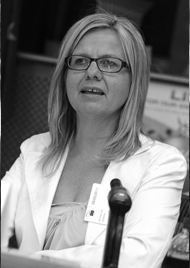 POSITION
Associate Professor in Landscape Architecture
Head of the Department of Architecture, Land and Environmental Science
CONTACT DETAILS
Telephone: +357 2684 3328
Email:
j.georgi@nup.ac.cy
BIOGRAPHY
Mrs. Julia Georgi, Associate Professor in Landscape Architecture, is Vice – Chairman of the Panhellenic Association of Landscape Architects and a member of the International Federation of Landscape Architects. She was elected as Assistant Professor in the Democritus University of Thrace, she is a Consulting Professor in the Greek Open University, Visiting Professor for the postgraduate degree in Landscape Architecture in the Aristotle University of Salonica, Florence University, Italy and has served as special consultant and co-ordinator in over 30 European projects relevant to her academic capacity (e.g. LIFE, FP7, INTERREG) and 25 study groups relevant to Landscape Architecture. She has published 4 scientific books, 20 articles in international scientific journals and over 60 statements in International and National Conferences, while she is also reviewer scientific projects in five scientific journals and several International Conferences. She has acted as organiser and guest speaker in over 20 Conferences and meetings, both in Greece and abroad, on Landscape Architecture. She has supervised over 70 postgraduate dissertations of the Greek Open University, as well as over 60 undergraduate dissertations (e.g. Technological and Educational Foundation of Kavala), while she participated in supervising undergraduate dissertations of the Aristotle University of Salonica, the Pantion University of Athens etc.
EDUCATION
She holds a Doctorate in Landscape Architecture from the Aristotle University (Salonica, Greece), a Master's Degree (MLA) in Landscape Architecture from the University of Newcastle (Newcastle-upon-Tyne, United Kingdom) and a Bachelors Degree in Forestry and Environmental Studies from the Aristotle University (Salonica, Greece).
PREVIOUS EMPLOYMENT
She has served as Assistant Professor in Landscape Architecture with the Technological and Educational Foundation of Kavala, a specialist landscape architect with the Ministry of Environment, Energy and Climate Change, in which capacity she represented Greece in Brussels in the European LIFE+ programme, as well as General Manager of the "Antonis Tritsis" Environmental Awareness Park in Ilion, Athens (the largest park in Greece, with a surface area of 120 Ha). She has a 20-year professional experience with organisations such as Egnatia Way S.A. and in the Rejuvenation Projects for the Athens 2004 Olympic Games, in association with the Athens 2004 Organising Committee, Goulandris Natural History Museum.
SELECTED PUBLICATIONS / RESEARCH
Julia Georgi, (2013) "Restoration – Redesigning of the Gardens of the Holy School of Theology of Halki" project, by the Neapolis University of Pafos,  2nd Biennale on Architectural and Urban Restorations (Biennale del Restauro Architettonico e Urbano 2_BRAU2) Taranto, Lecce, Italy, Igoumenitsa, Ioannina, Thessaloniki, Kavala, Constantinople,  15 -30 October 2013.
Ioannou D., Georgi J., Serraos K. (2013)The Environmental Awareness Park "Antonis Tritsis" in Athens: redesigning its role and form. Proceedings of the International Conference on "Changing Cities": Spatial, morphological, formal & socio-economic dimensions, ISBN: 978-960-6865-65-7, Skiathos island, Greece , June 18-21, 2013
Anthopoulos P. K., Georgi J. N. (2011) Landscape Preference Evaluation for Hospital Environmental Design, Journal of Environmental Protection, 2011, 2, 639-647 doi:10.4236/jep.2011.25073 Published Online July 2011 (http://www.scirp.org/journal/jep)
Julia Georgi and Declan Raferty (eds) (2011) GAD: The fortune of Garden Art Design contemporary avant-garde, Culture Programme, ISBN: 978-960-98403-1-6, pp. 294
Julia Georgi (ed) (2011) Creating Landscape on a Roof , Technological Educcational Institute, Department of Landscape Architecture, pp 79
Georgi N.J. , Dimitriou D. (2010) The contribution of urban green spaces to the improvement of environment in cities: Case study of Chania, Greece, Building and Environment, Volume 45, Issue 6, Pages 1401-1414
Georgi J., Kyriakou V, Polyzou E. (2010) 'Participatory Desing for cultural landscapes: The Campus of Democritus University, Greece' Proceeding of the International Conference on 29 Spt-2 Oct 2010: ECLAS European Council of Landscape Architectur Schools, Instanbul Technical University, Department of Landscape Architecture, 2010 Instanbul
Georgi N.J. (2007) Land restoration for the Olympic Games: case study Lycabettus slope (circle road)" Proceedings of the First International Conference on Eco-engineering Sept. 13-17 with the title: Eco and Ground -Engineering: The use of vegetation to improve slope stability, eds: (by A.Stokes, I. Spanos, J. Norris, I, Cammeraat E.) , Published by Springer ISDN -101-4020-5592-7, Netherlandnds, pp 381-386
Georgi N.J., Tzesouri. (2008) Environmental Measurements Aiming at the Improvement of the Bioclimatic Conditions in Open Spaces" Proceedings at 1st WSEAS International Conference on LANDSCAPE ARCHITECTURE (LA '08) Algarve, Portugal, June 11-13, 2008
Georgi ,N, J., Zafeiriadis K. (2006) The impact of park trees on microclimate in urban areas, doi 10.1007/S 11252-006-8590-9, Urban Ecosystem 9 , p.p. 195-209.