Dr. Lazaros G. Grigoriades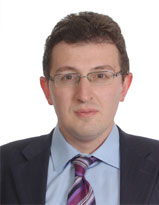 EDUCATION
Aristotle University, School of Legal, Economic and Political Sciences, Faculty of Law, Department of Commercial and Economic Law, Thessaloniki, Greece
Ph.D. in Commercial and Economic Law, Summa Cum Laude, Oktober 2012
Concentration: Trademark Law, EU Law and WTO Law
Aristotle University, School of Legal, Economic and Political Sciences, Faculty of Law, Department of Commercial and Economic Law, Thessaloniki, Greece
Master of Laws (LL.M.) in Commercial and Economic Law, Summa Cum Laude, October 2007
Concentration: EU Competition Law and Intellectual Property Law
Aristotle University, School of Legal, Economic and Political Sciences, Faculty of Law, Thessaloniki, Greece
Bachelor of Laws (LL.B.), with Distinction (ranked 1st), December 2005
ACADEMIC CAREER
Neapolis University Pafos, Law School, Pafos, Cyprus
Lecturer in Law, February 2015 – PresentAssigned to teach all the courses of the Commercial Law circle (General Commercial Law (General Part – Industrial Property Law); Company Law; Securities Law – Insurance Law; Copyright Law)
Aristotle University, School of Legal, Economic and Political Sciences, Faculty of Law, Department of Commercial and Economic Law, Thessaloniki, Greece
Scientific Assistant, March 2009 – June 2012Assigned to assist the faculty of the Department (organizational back-up, research and compilation of reading lists), prepare and conduct seminars for undergraduate students for selected courses of the roster of Commercial and Economic Law, proctor written exams, overview and pre-grade written exams and papers of both undergraduate, postgraduate and Erasmus students, assist the Librarian of Commercial and Economic Law in its duties and tasks, provide administrative and logistical help to the secretariat (department administration, study trips, guest lectures, workshops, colloquia, intranet research etc).
HONORS – SCHOLARSHI
Inclusion of my Biography in "Who is Who Greece", 9th edition, Hübners Who is Who, Verlag für Personenenzyklopädien AG, 2015
Award for Best Respondent Written Submission and for Best Overall Written Submission, 8th ELSA Moot Court Competition on WTO Law, European Regional Round Leuven, Belgium, Academic advisor-Coach of the team of the Faculty of Law of Aristotle University of Thessaloniki, Greece
Distinction in the Written and Oral Examinations for the admission of Candidate Attorneys at Law to the Bar Association of Thessaloniki, May 2007
Bachelor of Laws (LL.B.), with Distinction (ranked 1st), December 2005
Scholarship (2008-2011), A.G. Leventis Foundation, Athens, Greece
Scholarship (2006-2007), Alexander S. Onassis Public Benefit Foundation, Greek Section of Scholarship and Research, Athens, Greece
Fellow 2007-2008, Centre of International and European Economic Law (CIEEL), Thessaloniki, Greece
Scholarships for Excellent Performance (2001-2004) throughout undergraduate studies, Foundation of State Scholarships, Athens, Greece
RESEARCH EXPERIENCE
Centre of International and European Economic Law (CIEEL), Thessaloniki, Greece
Scientific Assistant, December 2007 – November 2008 
Conducted research on EU Law, jurisprudence of the Court of Justice and Court of First Instance of the European Communities, and practices followed by EU institutions, European and international Economic Law and International Business Law, Public Procurement, State Aid, Energy Law and Human Rights.
PROFESSIONAL EXPERIENCE
Attorney at Law, Thessaloniki, Greece, August 2007 – Today
LOGOS Law Firm, Thessaloniki, Greece, Attorney Trainee, September 2005 – August 2007
Drafted briefs and wrote appeals for tort and compensation cases. Performed legal research and prepared commercial and economic law cases for hearings. Attended meetings with clients. Assisted partners in court hearings.
Publications 
Trade Marks and Free Trade. A Global Analysis, Springer International Publishing, 2014 (548 pages) [PhD thesis] = Ανάλωση του δικαιώματος στο σήμα και νομιμότητα των παράλληλων εισαγωγών [Greek title], Nomiki Vivliothiki Publications, Athens 2013 (604 pages), Series of Studies on Business and Company Law, Direction: Evangelos Perakis
The Application of EU Competition Law in the Pharmaceutical Sector: The Case of Parallel Trade, European Business Law Review 1/2014, pp. 141-201 (61 pages) [Kluwer Law International] = Παράλληλες εισαγωγές φαρμακευτικών προϊόντων για ανθρώπινη χρήση και Δίκαιο Ανταγωνισμού της Ευρωπαϊκής Ένωσης [Greek title], Sakkoulas Publications, Athens – Thessaloniki 2012 (82 pages + 16 pages Addendum), Publications of Macedonian Commercial Law Union
Exhaustion and Software Resale Rights in Light of Recent EU case law, Journal of International Media and Entertainment Law, Vol. 5, No. 1, pp. 111-127 (17 pages)[Forums on Communications Law and the Entertainment and Sports Industries of the American Bar Association and the Donald E. Biederman Entertainment and Media Law Institute of Southwestern Law School]
Report from Greece: A New Business Entity in Greek Company Law: The Private Company ('P.C.'), 6 European Company Law pp. 213-215 (2013) [Kluwer Law International]
Comparing the Trademark Protections in Comparative and Keyword Advertising in the United States and European Union, California Western International Law Journal, Volume 44, Issue 2, Spring 2014, pp. 101-157 (56 pages) [California Western School of Law]
Report from Greece: The liability of members for the debts of commercial companies in Greek Law after the entry into force of Law No. 4072 of 2012 ("Law 4072/2012") and Law No. 4321 of 2015 ("Law 4321/2015"), European Company Law 4/2015, forthcoming [Kluwer Law International]
The question of exhaustion of copyright with regard to a material copy of a work made by a user of on-line services with the consent of the rightholder. Some considerations in the light of the decision of the Court of Justice of the European Union in "UsedSoft GmbH v Oracle International Corp." of 03.07.2012 (Case C-128/2011), DEE (Dikaio Epixeiriseon kai Etairion) 3/2013, pp. 1107-1117 (in Greek) [Nomiki Vivliothiki Publications]
Copyright and EU Fundamental Freedoms. Some considerations in the light of the decision of the Court of Justice of the European Union in "Football Association Premier League Ltd and Others v QC Leisure and Others (C-403/08) and Karen Murphy v Media Protection Services Ltd (C-429/08)", DEE (Dikaio Epixeiriseon kai Etairion) 6/2013, pp. 569-580 (in Greek) [Nomiki Vivliothiki Publications]
Intellectual Property and Freedom of Expression. On the occasion of the decision of the Court of Justice of the European Union in "Johan Deckmyn and Vrijheidsfonds VZW v Helena Vandersteen and Others", ChrID (Chronika Idiotikou Dikaiou) 4/2015, forthcoming [P.N. Sakkoulas Publications]
Parallel Imports and EU Pharmaceutical Regulatory Law, Armenopoulos 2013, pp. 234-258 (in Greek) [Thessaloniki Bar Association]
The Community legal framework for the protection against imports of counterfeit and pirated products, Hellenic Review of European Law 2009, pp. 23-43 (in Greek) [Thessaloniki Bar Association & Centre of International and European Economic Law]
Diagrammatic Representation of the New Greek Trade Mark Law (Law 4072/2012), Articles 121-124 & 134-149, in Chrisanthakis C. (ed.), Diagrammata Dioikitikou Ousiastikou Dikaiou, Nomiki Vivliothiki Publications, 2013 (in Greek)
Contribution in the following book: Georgios Triantafyllakis (ed.), Commercial Law Applications, 2nd edition, Nomiki Vivliothiki Publications, 2014 (in Greek), pp. 83-96 ("Overdrafts"), pp. 97-112 ("Commercial Agency Contract"), pp. 113-129 ("Exclusive Distribution Agreement"), pp. 130-141 ("Franchise Agreement"), pp. 157-163 ("Allotment Contract"), pp. 164-170 ("Time-Sharing Agreement"), pp. 171-185 ("Package Travel"), pp. 189-256 ("Private Company Limited by Shares"), pp. 257-308 ("Private Company"), pp. 1293-1315 ("Road and Air Transport")
Case comment on CJEU C-479/12, H. Gautzsch Großhandel GmbH & Co. KG / Münchener Boulevard Möbel Joseph Duna GmbH, 13.02.2014, Hellenic Review of European Law 3/2014, pp. 363 – 366 [Thessaloniki Bar Association & Centre of International and European Economic Law]
Case comment on CFI T-101/05, BASF AG / European Commission, T-111/05, UCB SA / European Commission, 12.12.2007 (Control of cooperation between undertakings in the vitamins products sector), Hellenic Review of European Law 2008, 353-365 (in Greek) [Thessaloniki Bar Association & Centre of International and European Economic Law]
Case comment on ECJ C-102/07, Adidas AG, 10.04.2008 (Distinctive character of trademark or signs used for the decoration of products), Hellenic Review of European Law 2008, 545-551 (in Greek) [Thessaloniki Bar Association & Centre of International and European Economic Law]
Review of jurisprudence of European Court of Justice and Court of First Instance (now General Court) (EU), Hellenic Review of European Law 2008, 327-328 and 517-523 (in Greek) [Thessaloniki Bar Association & Centre of International and European Economic Law]
Review of jurisprudence of European Court of Justice and Court of First Instance (now General Court) (EU), Hellenic Review of European Law 2009, 355-361, 518-522 and 527-528 (in Greek) [Thessaloniki Bar Association & Centre of International and European Economic Law]
Review of jurisprudence of European Court of Justice and Court of First Instance (now General Court) (EU), Hellenic Review of European Law 2010, 64-68, 209-215, 397-404 and 558-564 (in Greek) [Thessaloniki Bar Association & Centre of International and European Economic Law]