Dr. Nikolaos P. Bakas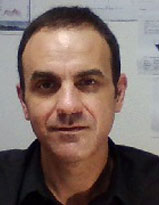 POSITION
Lecturer of Computational Mechanics
CONTACT DETAILS
Telephone: +357 2684 3512
Email:
n.bakas@nup.ac.cy
BIOGRAPHY
Dr. Nikolaos Bakas is a civil engineer, lecturer at the School of Architecture, Engineering and Geo-Environmental Sciences at Neapolis University Pafos. His studies comprise the Diploma of Civil Engineer NTUA (2003), the postgraduate Diploma Structural Analysis and Design of Structures (2005) and the PhD degree in Engineering of NTUA (2011). He has adjacently taught at the NTUA at Neapolis University from 2012 to present. The fields of his research interest concern methods for theoretical and computational structural design, optimization algorithms, data analysis, machine learning and bibliometrics. He has contributed in a variety of research projects, in research and development of professional engineering software and in the organization of scientific and technological seminars.
SELECTED PUBLICATIONS / RESEARCH
Nikolaos Bakas: Shear forces amplification due to torsion, explicit reliance on structural topology. Theoretical and numerical proofs using the Ratio of Torsion (ROT) concept. Structural Engineering & Mechanics 01/2017; 61(1):15-29.
John Bellos, Nikolaos Bakas: Complete Analytical Solution for Linear Soil Pressure Distribution under Rigid Rectangular Spread Footings. International Journal of Geomechanics (ASCE) 01/2017; 17(7):04017005.
Nikolaos Bakas, Spyros Makridakis, Manolis Papadrakakis: Torsional parameters importance in the structural response of multiscale asymmetric-plan buildings. Coupled Systems Mechanics 2017; 6(1):55-74.
John Bellos, Daniel Inman, Nikolaos Bakas: Nature of Coupling in Non-conservative Distributed Parameter Systems Attached to External Damping Sources. Mathematics and Mechanics of Solids 06/2017, 1-17.
S. Makridakis, N. Bakas: Forecasting and uncertainty: A survey. Risk and Decision Analysis 2016, 6(1): 37-64.
Chrysanthi G. Stathi, Nikolaos P. Bakas, Nikos D. Lagaros, Manolis Papadrakakis: Ratio of Torsion (ROT): An index for assessing the global induced torsion in plan irregular buildings. Earthquakes and Structures 07/2015; 9(1):145-171.
Nikos D. Lagaros, Nikolaos Bakas, Manolis Papadrakakis: Optimum Design Approaches for Improving the Seismic Performance of 3D RC Buildings. Journal of Earthquake Engineering 03/2009; 13(3-3):345-363.
Nikolaos D. Lagaros, Manolis Papadrakakis, Nikolaos Bakas: Automatic minimization of the rigidity eccentricity of 3D reinforced concrete buildings. Journal of Earthquake Engineering 07/2006; 10(4-4):533-564.
C. Mitropoulou, N P Bakas, M Papadrakakis: Advances in design optimization of reinforced concrete structural systems, in Computational Structural Dynamics and Earthquake Engineering. Computational Structural Dynamics and Earthquake Engineering: Structures and Infrastructures Book Series, 01/2008: pages 477-506; Taylor & Francis.