Vasileios Petropoulos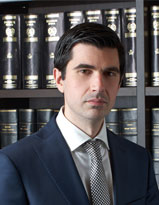 BIOGRAPHY
Vasileios Petropoulos was born in Athens in 1980 and he received his education at the Universities of Athens (2001, LL.B.), Munich, Ludwig Maximilian Universität, (LL.M, 2003; PhD, 2005; Post Doc "Habilitation" 2010) and Zurich (PhD 2008).
His doctoral theses are entitled "The evaluation of the victim's behavior within the conduct of Fraud" (Munich 2005), "The criminal conduct of the Market manipulation in Swiss and European law, especially on the aspect of German and Greek criminal law" (Zurich 2008), "The criminal evaluation of the impulsive behavior" (Munich 2010) –all of them in German.
He is a member of the Patras Bar Association (2003) and an academic assistant at the Law School of the University of Athens.