Dr. Zinon Zinonos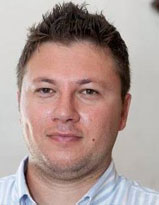 BIOGRAPHY
Dr. Zinon Zinonos received the diploma in Computer Engineering from the Computer Engineering and Informatics Department (CEID) of the University of Patras, Greece, in 2005, and the M.Sc and Ph.D degrees from Computer Science Department, University of Cyprus, in 2008 and 2013, respectively, all in computer science. Since 2013 he works, as a Post-Doctoral researcher at KIOS Center of Intelligent Systems and Networks. His research interests include wireless, ad hoc and sensor networks, mobility management in low power devices, adaptive topology control, computer communication networks, quality of service (QoS) provisioning, intelligent systems, statistical learning, pattern recognition, machine learning techniques, implementation of real-time monitoring and control systems and energy efficiency.
He has published articles to journals and presented his work at several conferences organized by the computer science and communication networks community. His research has been funded by the European Commission, by the University of Cyprus and the KIOS Research Center for Intelligent Systems and Networks. He is actively involved in various projects funded by the European Commission that involve intelligent systems and networks, energy efficiency and water management. He is member of IEEE and the Cyprus Scientific and Technical Chamber.
SELECTED PUBLICATIONS / RESEARCH
Zinon Zinonos, Chrysostomos Chrysostomou, Vasos Vassiliou, Fuzzy Logic Control for Mobility Support in Industrial Wireless Sensor Networks, Book Chapter in Cooperative Robots and Sensor Networks 2014, Volume 554 of the series Studies in Computational Intelligence pp 205-230- Elsevier
Zinon Zinonos and Vasos Vassiliou, "Inter-Mobility Support in Controlled 6LoWPAN Networks", In Proceedings of GLOBECOM 2010, Miami, USA, December 2010.
V. Vassiliou and Z. Zinonos, "An Analysis of the Handover Latency Components in Mobile IPv6", Journal of Internet Engineering, vol. 3, no. 1, Dec. 2009, pp.230-240.
Zinon Zinonos, Vasos Vassiliou and C. Chrysostomou, Handoff Triggering for Wireless Sensor Networks with Performance Needs, 18th IEEE Symposium on Computers and Communications (IEEE ISCC 2013), Split, Croatia.
Z. Zinonos, C. Chrysostomou, V. Vassiliou, "Controlling the Handoff Procedure in an Oil Refinery Environment Using Fuzzy Logic", In proceeding of: IEEE International Conferences on Embedded and Ubiquitous Computing (EUC), Paphos, Cyprus, December 2012.
Zinon Zinonos, Vasos Vassiliou and Tasos Christofides, "Radio Propagation in Industrial Wireless Sensor Network Environments: From Testbed to Simulation Evaluation", 15th ACM International Conference on Modeling, Analysis and Simulation of Wireless and Mobile Systems (MSWiM'12), Cyprus.
C. Heracleous, Z. Zinonos, CG Panayiotou, Water Supply Optimization: An IPA Approach, IFAC Proceedings Volumes, 2014 – Elsevier
Zinon Zinonos, Ricardo Silva, Vasos Vassiliou, Jorge Sa Silva, "Mobility Solutions for Wireless Sensor and Actuator Networks with Performance Guarantees", 18th International Conference on Telecommunications (ICT 2011) pp. 446-451, 2011, Agia Napa, Cyprus.
Ricardo Silva, Zinon Zinonos, Jorge Sa Silva, Vasos Vassiliou, "Mobility in WSNs for Critical Applications", 16th IEEE Symposium on Computers and Communications (IEEE ISCC 2011), Kerkyra (Corfu), Greece.
Z. Zinonos, C. Chrysostomou, V. Vassiliou, "Mobility Management in WSNs using Fuzzy Logic: An Industrial Application Scenario", Proceedings of the 8th IEEE International Conference on Distributed Computing in Sensor Systems" (IEEE DCOSS'12), Hangzhou, China, May 16-18, 2012.