Dr. Nikolaos Zaprianos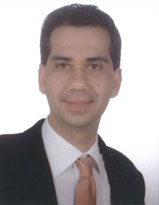 BIOGRAPHY
Nikolaos Zaprianos was born in 1984 in Serres, Greece. He studied law at the Aristotle University of Thessaloniki (graduated 2007) and holds a postgraduate degree in civil, civil procedure and labour law from the same University (2010).
In 2010 he worked as a scientific collaborator for the Centre of International and European Economic Law in Thessaloniki.
Being awarded a scholarship from the Greek State Scholarships Foundation (IKY) Nikolaos Zaprianos obtained his doctoral degree (Dr. iur.) under the supervision of Professor Dr. S. Augenhofer at the Humboldt University of Berlin (2015). His dissertation regarding the unwinding of consumer contracts following the exercise of a right to withdraw earned the distinction magna cum laude.
In Berlin he attended lectures and seminars on German civil law, competition law and European private law. He also took part in a workshop on US private law organised by the Humboldt University of Berlin and the Yale Law School.
In October 2014 Nikolaos Zaprianos joined the School of Law and Social Sciences, Neapolis University, where he lectures on patrimonial civil law and consumer law. His main research areas are law of obligations, consumer law, European private law and civil procedure law.
Nikolaos Zaprianos is also a member of the Thessaloniki Bar, Greece.
EDUCATION
Doctor Iuris, Humboldt University of Berlin (2015)
US Private Law Workshop «Yale – Humboldt Consumer Law Lectures», Humboldt University of Berlin and Yale Law School (2014)
Postgraduate Degree on Civil Law, Labour Law, Civil Procedure Law, Aristotle University of Thessaloniki (2010)
Law Graduate, Aristotle University of Thessaloniki (2007)
PROFESSIONAL EXPERIENCE
Attorney-at-Law, member of the Thessaloniki Bar (since 2009), Of Counsel at ACTUS/Epirus Legal Consulting in Ioannina and Zaprianos Law Office in Serres
Traineeship, Efstratiadis & Petmezas Law Office, Thessaloniki (2007–2009)
RESEARCH
Centre of International and European Economic Law, Thessaloniki (2010), cooperation in the "Hellenic Review of European Law" and in a national report on the implementation of the Directive on services in the internal market (2006/123/EC) in Greece
PUBLICATIONS
Book
2016 Die Rückabwicklung der Verbraucherverträge nach Ausübung des Widerrufsrechts – Eine Untersuchung unter Berücksichtigung der Verbraucherrechte-Richtlinie und des Entwurfs für ein Gemeinsames Europäisches Kaufrecht, Nomos (Baden-Baden 2016) 404 pages (link)
Articles and Contributions to Edited Volumes
2018 "Civil Liability for Design and Release of Vehicles with Manipulated Emission Control System – Civil Law Questions in Dieselgate" 9 Theory and Practice of Civil Law & Civil Procedure Law (2018) […]
2017 "Defective Medical Products and Notified Body's Civil Liability" 17 Chronika Idiotikou Dikaiou (Chronicles of Private Law) (2017) 712-719
"The Rebuttable Presumption of Non-Conformity in Sale of Goods – Law of Obligations and Law of Evidence under European Integration" 10 Epitheorisi Politikis Dikonomias (Civil Procedure Law Review) (2017) 350-358
2016 "Deliktsgerichtsstand am Erfolgsort bei reinen Vermögensschäden" 13 Zeitschrift für das Privatrecht der Europäischen Union (2016) 251–255
"Passing-on Defence in Competition Law Damages Actions – Directive 2014/104 and General Private Law" 57 Elliniki Dikaiosyni (Hellenic Justice) (2016) 1012–1023
2015 "Establishing Causation in Tort Law – Umbrella Pricing Cartel Damages Actions and Causal Link Doctrine" 69 Armenopoulos (2015) 741–753
2014 "Unfair Contract Terms Control" in Procedural Aspects of Consumer Protection Law – 38th Conference of the Greek Civil Procedure Lawyers Association (2014), 219–224
"Digital Content Contracts – Greek Legislation following the Transposition of the Consumer Rights Directive", 68 Armenopoulos (2014), 1095–1115
"Illegality as Defence Against Unjust Enrichment Claims", 36 Peiraiki Nomologia (Piraeus Law Reports) (2014), 198–205
2013 "Unfair Contract Terms Control and the Role of Civil Procedure Regulations", 67 Armenopoulos (2013), 2349–2354
2012 "On the Buyer's Right to Replacement in the Law of Sales – Landscape after the ECJ-Judgment in Joined Cases Gebr. Weber (C-65/09) and Putz (C-87/09)" 66 Armenopoulos (2012), 185–201 (link)
2010 "Piercing the Corporate Veil in order to Protect the Corporation Members' Legitimate Interests"64 Armenopoulos (2010) 1298–1325 (link)