Mr. Petros Artemis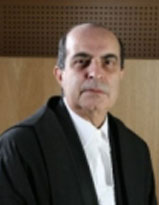 POSITION
President of the Scientific Committee
CONTACT DETAILS
Telephone: +357 2684 3336
Email:
p.artemis@nup.ac.cy
BIOGRAPHY
Petros Artemis, P., was born in 1945 in Nicosia, Cyprus. After his secondary education he studied law in England and became a barrister-at-law of the Honourable Society of Gray´s Inn.
Having completed his military service, he practiced law in Nicosia for three years and in 1972 he was appointed District Judge. In 1988 he became President of the Nicosia District Court and in 1991 he was appointed Judge of the Supreme Court. He was appointed President of the Supreme Court in September 2008.
He has lectured to local and English lawyers on several subjects of the Cyprus Law and has been an examiner of the local bar examinations for some years. Many of his lectures have been published. He is co-author of the books "Cases of Road Negligence" (1996) and "Civil Wrongs" (Torts) (2003) and author of "Prerogative Orders" (2004).
SELECTED PUBLICATIONS / RESEARCH
Books (Private Edition)
"Prerogative Writs" (2004) – ISBN: 9963-8157-4-x
"Civil Wrongs – The Law and Decisions" (2003) (2 Volumes) ISBN raw 9963-8157-1-5, Volume A' 9963-8157-3-3, Volumes B' 9963-8157-3-1
"Cases of Road Negligence" (1996) – ISBN 9963-8157-07
Conference Publication
"The Mental Element in Crime" (Conference Commonwealth Court Judges, Nicosia, 1985)
"Professional Negligence' (European Conference , Tenerife,1992)
"Freedom of the Press and the Law of Defamation" (Conference Commonwealth Court Judges, Malawi, 2003)
"Judicial Ethics" (Conference Cypriot Court Judges)
Lectures to Cypriot and other Lawyers
The Legal System of Cyprus
The Law of Evidence
Proof in Criminal Matters
Article 146 of the Constitution
The Law of Necessity
The Recourse
Delays in the administration of justice
Freedom of Speech and the Law of Defamation