Prof. Diomedes Markoulis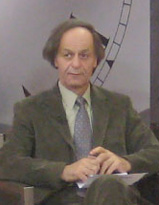 POSITION
Professor of Developmental Psychology,
Dean of the School of Health Sciences
CONTACT DETAILS
Telephone: +357 2684 3601
Email:
d.markoulis@nup.ac.cy
BIOGRAPHY
Professor Markoulis is the Dean of the School of Health Sciences and coordinator of the Postgraduate Programme in Educational Psychology. He studied at the Universities of Thessaloniki and Toronto-Canada. Before joining NUP he served for a number of years as Head of the Department of Psychology at the University of Thessaloniki. His research interests focus on the development of the socio-cognitive processes along the life-span and on the impact of internal and external factors involved in the formation of political ideology. He was a visiting scholar and invited speaker in seminars and colloquia at various foreign universities, member of editorial boards and committees of learned societies and paper reviewer of international journals of Psychology.
SELECTED PUBLICATIONS / RESEARCH
Antecedent variables for sociomoral reasoning development: Evidence from two cultural settings (with N. Valanides) International Journal of Psychology, 1997 (5), 45-59.
Morality, Wisdom and the Life-span (with H. Haste and K. Helkama) In A. Demetriou, W. Doise (Eds). Life-Span Developmental Psychology: A European Perspective. London: Wiley 1998, 317-350.
Cognitive, sociomoral and family influences on adolescent's political ideology. In R. Reichenback and F. Oser (Eds). Zwischen Pathos und Ernuchterung. University of Freibug Press, 2000, 184-198.
The acquisition of formal operational schemata during adolescence. A cross-cultural comparison (with N.Valanides). International Journal of Group Tensions, 2000 (29), 135-162.
Being involved : Theoretical and research approaches. In F. Oser and W. Veugeler (Eds). Getting Involved. Univ. of Freiburg Press, 2008, 75-87).
Political orientation, political reasoning and sociomoral judgement: A two-way street? (with O. Fotakopoulou) Psychology, 2012 (in press).