Prof. Petros Sivitanides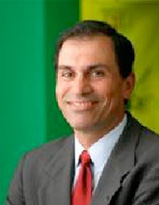 POSITION
Associate Professor in Real Estate
CONTACT DETAILS
Telephone: +357 2684 3508
Email:
p.sivitanides@nup.ac.cy
BIOGRAPHY
Dr. Petros Sivitanides holds a doctoral degree from the Massachusetts Institute of Technology in Real Estate Economics. He has extensive research experience in some of the leading consulting firms in the field of real estate in the US and Europe and has published several articles in international journals in the field of Real Estate. His research and publications have focused on the pricing of real estate, the intertemporal behavior of the office market, capitalization rates for commercial properties, real estate portfolio structuring and real estate risk.
EDUCATION
Ph.D., Urban Studies and Planning, Feb. 1991, Massachusetts Institute of Technology, Cambridge, Massachusetts, U.S.A.
Specialization: Regional, Urban, and Real Estate Economics
Dissertation: Inter-Metropolitan Differences in Normal Vacancy Rates and Office Rents
M.C.P. (Master of City Planning), June 1985, Georgia Institute of Technology, Atlanta, Georgia, U.S.A.
Specialization: Real Estate and Land Development
Diploma in Architectural Engineering, June 1981, National Technical University of Athens, Athens, Greece
PREVIOUS EMPLOYMENT
2007 – 2009 Chief Investment Officer, Venture One, Cyprus
2006 – 2007 General Manager, DTZ GREECE SA
2005 – 2006 Investment Director, PROPERTY INVESTMENTS – K.E.D. Greece
1999 – 2004 Vice President, Senior Economist, TORTO WHEATON RESEARCH, USA
1991 – 1998 Vice President, Senior Research Director, CB RICHARD ELLIS INVESTORS, Department of Investment Research, USA
SELECTED PUBLICATIONS / RESEARCH
Real Estate Investing for Double-Digit Returns, Charleston, SC, USA: BookSurge LLC, 2007.
"Real Estate Market Fundamentals and Asset Pricing," The Journal of Portfolio Management, Special Issue, September, 45-53 (co-author with R. Torto and W. Wheaton), 2003.
"Evaluating Real Estate Risk: Equity Applications," Real Estate Finance, 18(4): 7-17 (co-author, with R. Torto, W. Wheaton, and J. Southard), 2002.
Click here for the Detailed CV of Prof. Petros Sivitanides (pdf ~ 178 KB)