Prof. Spyros Vliamos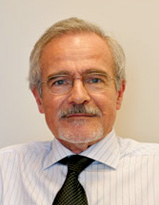 POSITION
Professor of Entrepreneurship and Public Administration
CONTACT DETAILS
Telephone: +357 2684 3300
Email: s.vliamos@nup.ac.cy
BIOGRAPHY
Professor of Methodology and Theory of Institutions and Economic Policy, at the National and Kapodistrian University of Athens and Professor of Political Economy and Entrepreneurship at Neapolis University of Pafos, Cyprus.
Been Professor and Head of the Economics Department and Professor (2000-2006) and Head of the Department of Regional and Urban Planning (1993-1999), both at the University of Thessaly – Greece and Member of the Senate of the University of Thessaly (1998-2004). He has also been Director of the Laboratory of Local and Regional Development of the University of Thessaly. He has additionally taught as Visiting Scholar at The Wroxton College, Fairleigh Dickinson University in Oxford England, and Visiting Professor at The Graduate Institute of Regional Development of the Panteion University of Social Sciences, Athens, The National University of Nagoya, Japan and The Economics University of Prague, Czech Republic. Served as Secretary General for the Management of European Funds at the Greek Ministry of Employment, (March 2004 – Feb. 2006), Special Advisor at the Public Enterprise for Housing and Urban Planning in Greece, Advisor to the Governor of the Hellenic Industrial Development Bank, General Director of the Institute of Continuous Training of the National Center of Public Administration, Expert of the Joint Research Center of the European Commission at Ispra in Italy. Also, been a member of the Board of Directors of The Athens Stock Exchange and The Hellenic Telecommunications Organization S.A. Been Managing Editor of the Journal of Regional Science Inquiries, and member of the Editorial Boards of the 'International Journal of Economic Asymmetries',(Athenian Policy Forum) and the 'International Journal of the Knowledge Economy', (Springer Publishing House). Also, member of the Editorial Board of the Book Series under the general title 'Technology, Innovation and Knowledge Management' (Springer Publishing House).
His professional experience includes areas of specialized knowledge in, Entrepreneurship, Institutions and Economic Policy, Regional development, Local government, Economic analysis and policy, Training (diagnostics, design of vocational programs, evaluation), Investment appraisal, Location analysis.
SELECTED PUBLICATIONS / RESEARCH
Μonographs 'Regional-Local Development', 'Sustainable Development', 'Sustainable Development and Energy', (Three Textbooks for Instructors of Adult Education Programs), Institute for Continuous Education and Training, Athens, 2008.
Articles in Refereed Journals "Regional Development and Non-material Public Infrastructure" (in cooperation with Dr. T. Yagi), Bulletin of Economic Research, Oxford, Vol. 49: 1/1997.
'Cost Benefit Analysis for evaluating the Complex-City Model' (in cooperation with Prof. D. Sarigiannis) Joint Research Centre Report, Joint Research Centre, European Commission, Ispra 1998.
'An Innovative Cost-Benefit Analysis Decision Support System for the Evaluation of Alternative Scenarios of Water Resources Management' (in cooperation with Κ. Αravossis, P. Αnagnostopoulos, Α. Κougolos). Fresenious Environmental Bulletin, Parlar Scientific Publications, 2004.
'Empire of the Ocean against Empire of the Continent: An Economic Analysis of Strategy' (in cooperation with Prof. N. Kyriazis), Archives of Economic History, (Vol. XVIII, Issue No 2, 2006).
'Entrepreneurship Innovation at Work and Schools: The Greek Paradigm, International Journal of Entrepreneurship and Innovation Management, Vol. 8, No. 6, 2008.
'Economic Analysis of Medical Malpractice' (in cooperation with Maria Chatziplaton), in Review of Decentralization, Local Government and Regional Development, Vol. 14, Issue No. 51, 2008. Republished in Issue 52 of the Same Review also and in The Review of Private Law, (Law and Economy Series), Papazissis Publishers, 2008.
'Small Business Development: Efficiency Evaluation of Knowledge Based Networks' (in cooperation with G. Halkos and N. Tzeremes), International Journal of Entrepreneurship and Innovation Management, Vol. 9, Nos. 1 / 2, 2009.
'Small Business Development: Efficiency Evaluation of Knowledge Based Networks' (in cooperation with G. Halkos and N. Tzeremes), International Journal of Entrepreneurship and Innovation Management, Vol. 9, Nos. 1 / 2, 2009.
'Technological Progress and Human Capital Accumulation in a Model of Endogenous Growth', (in cooperation with Iacovos Psarianos). International Journal of Economic Research, Vol. 7, No. 1, Jan. – June 2010.
'Factors influencing Entrepreneurial Behavior and Business Formation: Evidence from Central Greece' (in cooperation with N. Tzeremes), International Journal of the Knowledge Economy, (2011- DOI 10.1007/s13132-011-0043-x).
Estimating the Value of Life in Courts: An Economic Approach' (in cooperation with A. Hatzis), The Journal of Economic Asymmetries, (forthcoming).
European Integration and Globalization: From European Regionalism to Globalization', στο Siamack Shojai, Robert Christopherson (eds.) The Virtuous Vice: Globalization, School of Business Administration, State University of New York, New York, Praeger Publishers, Greenwood Publishing Group, 2004.
'Regional Development, Environment and the Tourist Product' in Peter Nijkamp, Maria Yaoutzi (eds.) Tourism and Regional Development: New Pathways, Routledge. Publications, London, (2005).
'Fostering Entrepreneurship and Innovation in the Greek Labour Market and Education System, in E. G. Carayannis and J. J.Chanaron (eds.) Strategic Knowledge Serendipity and Arbitrage in Leading and Managing Creators, Inventors and Innovators, Greenwood Publishing Group, Praeger Books, USA 2007.
'The Assessment of Compensatory Damages for Medical Error by the Greek Courts: An Economic Analysis, (in cooperation with A. Hatzis), in Brox, J. & Baltas, N. (eds), The Global Economics of a Changing Environment ,North Waterloo Academic Press, Autumn 2009
'Evolutionary Epistemology as a methodology for Studying the Entrepreneurial Process and Strategy' in J. Milios and K. Theologou (eds.) Humanities and Social Sciences in the National Technical University of Athens, NTUA Editions 2010.
'Sustainability and Entrepreneurial Process', στο Paula Kyrö (ed.) "The Handbook of Entrepreneurship and sustainable development", Edward Elgar Publishing House, 2011 (in cooperation with Prof. D. Sarigiannis).
'Methodological Individualism and Entrepreneurial Development', Studies in honour of Professor P. Gemtos, National and Kapodistrian University of Athens, Athens 2011.
'The Assessment of Compensatory Damages for Medical Error by the Greek Courts: An Economic Analysis, (in cooperation with A. Hatzis), in Brox, J. & Baltas, N. (eds), The Global Economics of a Changing Environment ,North Waterloo Academic Press, Autumn 2009