Spyros Vliamos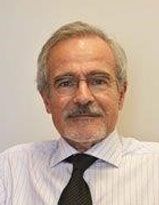 POSITION
Dean, School of Economics and Administration
Professor of Political Economy and Entrepreneurship
CONTACT DETAILS
Telephone: +357 2684 3372
Email:
s.vliamos@nup.ac.cy
BIOGRAPHY
Spyros Vliamos is Professor Emeritus (Honorary) of Political Economy at the National and Kapodistrian University of Athens, specializing in Institutional Economics and Entrepreneurship.  In 2015, he was appointed Dean of the Business School of Neapolis University Pafos in Cyprus.
Born in Samos Greece in 1951. He holds a degree in Economics and has studied in the Universities of Athens, (B.Sc.), Manchester (M.A. Econ.) and London (Ph.D.).  Since Feb. 2005 he has been Professor of Methodology and Theory of Institutions and Economic Policy at the Department of Philosophy and History of Science of the National and Kapodistrian University of Athens. He has been the founder and since then (2002) a Visiting Scholar at the Pan – European Entrepreneurship Research Group (PEER-Group) at the Université de Paris, Dauphine.
Previously, he has been Professor and Head of the Economics Department and Professor and Head of the Department of Regional and Urban Planning, both at the University of Thessaly – Greece, Visiting Professor in the Department of Economics of the National and Kapodistrian University of Athens and a Member of the Senate of the University of Thessaly. He has also been Director of the Laboratory of Local and Regional Development of the University of Thessaly.
He has additionally taught as Visiting Professor at The Wroxton College, Fairleigh Dickinson University in Oxford England, The Graduate Institute of Regional Development of the Panteion University of Social Sciences, The National University of Nagoya, in Japan and The Economics University of Prague in the Czech Republic.
He has served as Secretary General for the Management of European Funds at the Greek Ministry of Employment, (March 2004 – Feb. 2006), Special Advisor at the Public Enterprise for Housing and Urban Planning in Greece, Advisor to the Governor of the Hellenic Industrial Development Bank, General Director of the Institute of Continuous Training of the National Center of Public Administration, Expert of the Joint Research Center of the European Commission at Ispra in Italy. Furthermore, he has been a member of the Board of Directors of The Athens Stock Exchange and The Hellenic Telecommunications Organization S.A.
His professional experience includes areas of specialized knowledge in, Entrepreneurship, Institutions and Economic Policy, Regional development, Local government, Economic analysis and policy, Training (diagnostics, design of vocational programs, evaluation), Investment appraisal, Location analysis.