Prof. Spyros Vliamos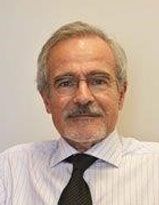 POSITION
Dean of School of Economics and Business
Professor of Political Economy and Entrepreneurship
CONTACT DETAILS
Telephone: +357 2684 3372
Email:
s.vliamos@nup.ac.cy
BIOGRAPHY
Spyros Vliamos is Professor Emeritus (Honorary) of Political Economy at the National and Kapodistrian University of Athens, specializing in Institutional Economics and Entrepreneurship.  In 2015, he was appointed Dean of the Business School of Neapolis University Pafos in Cyprus.
He holds a Ph.D. in Economics from the University of London, a M.A. in Economics from Manchester University, and a B.Sc. in Economics from the University of Athens. Also, been member of the Senate at the University of Thessaly and Head of the Department of Economics and of the Department of Regional and Urban Planning. He has taught as Visiting Professor at the Graduate Institute of Regional Development of the Panteion University, at the National University of Nagoya-Japan and at the Economics University of Prague. Been also the co-founder and Director of the first and biggest private university in Czech Republic, under the name University of New York in Prague (UNYP).
He has also been (1) National Expert with the Joint Research Centre (JRC) of the European Commission in Ispra, Italy, (2) Secretary General for the Management of European Funds with the Greek Government (2004 – 2007), (3) Advisor to the Government of the Hellenic Bank of Industrial Development (1983 – 1991), (4) member of the Board of Directors of The Athens Stock Exchange and (5) The Hellenic Telecommunications Organization S.A.
He has been the founder and since then (2002) a Visiting Scholar and a Member of the Board of the Pan – European Entrepreneurship Research Group (PEER-Group) at the Université de Paris, Dauphine and member of the Scientific Committee and the Faculty of the European Doctoral Program European University Network on Entrepreneurship Research – ESU.
For several years, he has been the Managing Editor of the Journal of Regional Science Inquiries and recently he was appointed as Senior Associate Editor for the IGI Journal of Social Ecology and Sustainable Development mand as Associate Editor for the:
Springer Journal of the Knowledge Economy
Springer Journal of Innovation and Entrepreneurship
Springer Journal of Technology, Innovation and Education
Also, a member of the Editorial Board of the Book Series under the general title 'Technology, Innovation and Knowledge Management' (Springer Publishing House).
His professional experience includes areas of specialized knowledge in:  Entrepreneurship, Institutions and Economic Policy, Regional development, Local government, Economic analysis and policy, Investment appraisal, Location analysis.