Prof. Stephen Wanhill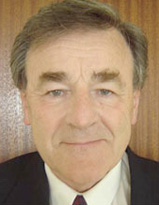 POSITION
Professor of Business & Marketing
CONTACT DETAILS
Telephone: +357 2684 3402
Email: s.wanhill@nup.ac.cy
BIOGRAPHY
Stephen is the founding professor of Tourism Economics at the university. Stephen has held chairs in tourism at the Universities of Surrey, Cardiff, Bournemouth and Nottingham. He is the co-author of the acclaimed book Tourism Principles and Practice, currently in its 3rd edition.
SELECTED PUBLICATIONS / RESEARCH
2006, Globalisation in International Handbook on the Economics of Tourism, eds Dwyer L. and Forsyth P., Edward Elgar, Cheltenham, (with Fletcher J.).
2002, Globalisation of Air Transport: the challenge of the GATS, Tourism Economics, 8, 4, 431-455 (with Fayed, H.).
2001, Tourism Education: a comparative study of Brazil and United Kingdom, Turism- Visao e Acao, 4, 8, 9-27, Universidade de Sao Paulo (with Fletcher J. and Teceira R.).