Dr. George Demetriades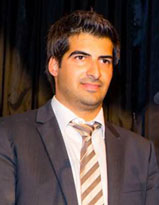 BIOGRAPHY
Dr. George Demetriades graduated with a law degree (LLB Law) from the University of Leicester in 2007. Later on, he joined the College of Law (Birmingham) for the Bar Vocational Course and received a call to the English Bar in autumn 2008, as a member of Lincoln's Inn. Then he was accepted by the Institute of Advanced Legal Studies (University of London) for the MPhil/PhD programme under the supervision of Professor Barry Rider. He obtained the PhD Degree in October 2012 and the title of the thesis was 'The Fiduciary Obligations of Banks to their Clients – An analysis of Old Law to New Circumstances'. Since 2011 he is a member of the Cyprus Bar Association.
Dr. Demetriades research interests lies especially in the area of Banking Law and the protection against economic crime. In September 2011 and 2013, after a formal invitation, he attended the Cambridge International Symposium on Economic Crime and delivered a speech on the following issues:
Analysing the Legal and Regulatory Obligations on those who overlook other people's money in Cyprus in order to combat Money Laundering.
The role of private parties in the enforcement of law and the protection of the economy.