Nikolaos Apostolopoulos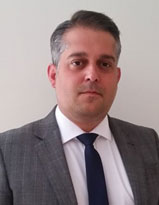 POSITION
Assistant Professor in Entrepreneurship and Innovation
Coordinator of the
MBA
CONTACT DETAILS
Telephone: +357 2684 3600
Email:
n.apostolopoulos@nup.ac.cy
BIOGRAPHY
Dr Nikolaos Apostolopoulos is an Assistant Professor in Entrepreneurship and Innovation at Neapolis University Pafos. He also acts as a Scientific Advisor at the Labour Institute (INE-GSEE). He was Lecturer in Entrepreneurship and Director in the MSc in Entrepreneurship and MSc in Entrepreneurship and International Development at the University of Plymouth. Dr Apostolopoulos was a researcher at the Responsible Entrepreneurship and Social Innovation research group of the Plymouth Business School. He holds a PhD with distinction in entrepreneurship and regional sustainable development in the European Union. He has participated in more than 10 funding initiatives of the EU Structural Funds. Among these initiatives, he was co-author of a report on the impact of the Europe 2020 strategy on the Greek economy funded by the EU Structural Funds. Moreover, he is a key researcher of a Jean Monnet Centre of Excellence on Governance at the University of Peloponnese. Dr Apostolopoulos was successfully a co-applicant of the Enterprise Educators UK research and he is currently working through this grant on entrepreneurship education and sustainable development.
Dr Apostolopoulos is a co-author of a handbook focusing on social entrepreneurship in Europe and co-editor in a collective volume on Entrepreneurship and the Sustainable Development Goals. Furthermore, his research publications focus on entrepreneurship and sustainability. He has published in leading journal such as the Journal of Rural Studies, Corporate Governance: The International Journal of Business in Society, Economic and Business Letters. Finally, he is an advisor in entrepreneurship and employability at the rehabilitation centre "Amaltheia". He acts as an expert of economic growth at SAYWA project "Legal Boundaries of Work between Peru and Bolivia" which is funded by EuropeAid programme – Investing in people. He is also a co-guest editor of a special issue entitled "Entrepreneurship and the European Union policies after 60 years of common European vision: regional and spatial perspectives" launched by the Journal of Small Business and Entrepreneurship.