Andreas Masouras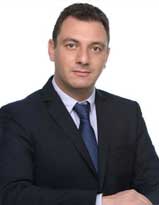 BIOGRAPHY
Dr Andreas Masouras is a Lecturer at the University of Neapolis in Pafos in the fields of Marketing Management, entrepreneurship and innovation. He holds a PhD (Honors) from the Department of Political Science and International Relations of the University of the Peloponnese. The title of his doctoral dissertation is: "Entrepreneurship and Competitiveness through the lens of the Institutional Analysis: The Case of Cyprus". Also, he holds a Professional Doctorate in Management (D.Mgt.) from Monarch Business School (Switzerland) and MPhil from Brighton University (Media Management).
He is currently a faculty member at Neapolis University, Pafos and has taught at foreign universities such as the MBA program at Cardiff Metropolitan University and various distance programs. He is press officer of the University.
He graduated from the Α' Lyceum of Ethnarch Makarios in Pafos. After his military service, he studied at the Department of Communication and Mass Media of the National and Kapodistrian University of Athens (BA). He then continued his postgraduate studies at the University of South Wales, where he received a MSc in Globalisation, Media and Culture. Also, he holds a Postgraduate Certificate (PgCert) in Research Methodologies from Brighton University and Postgraduate Diploma (PgDip) in Management from the Northern Council for Further Education (NCFE). He holds a degree in Law (LLB) with Honors.
He is a founding member and Head of the Research Institute of Applied Communication in Cyprus. His research interests and objectives are in the areas of entrepreneurship, youth entrepreneurship, business models, entrepreneurial innovation and marketing management.
Andreas has been a Visiting Research Fellow at Antwerp University in Belgium, at the Central European University in Hungary and at Fordham University, NY. He is a visiting researcher at several other universities. Main researcher of the Centre of International & European Political Economy & Governance – CIEPEG of the University of Peloponnese. Member of the Scientific Council, as an external visitor, of the Centre of the Study of Media and Culture in Small Nations of the University of South Wales.
He actively writes a series of scientific articles while he is constantly involved in remarkable international conferences where he presents his research. His latest book, "Entrepreneurship in Small and Medium-Sized Enterprises," is released by the American publishing house Nova.