Andreas Masouras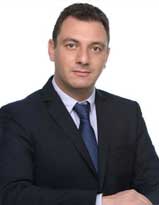 BIOGRAPHY
Dr. Andreas Masouras, teaches at the University of Neapolis in Pafos. He is expertise in Marketing Management and Qualitative Social Research. Dr. Masouras is a graduate of the Doctor Management program from Monarch Business School and PhD candidate in Institutional Economics at the University of Peloponnese. Dr. Masouras also holds an MPhil in Media from the University of Brighton, a BA degree in Communication and Mass Media from the National Kapodistrian University of Athens, LLB from Neapolis University and a M.Sc. in Globalization, Media and Culture from the University of Glamorgan in Wales (South Wales University) as well as a Postgraduate Diploma in Management Studies (with specialization in media) from the National Awarding Body of the United Kingdom. Opposite of media studies, Dr. Masouras holds a postgraduate certificate in university education from the University of Brighton.
He is a founding member and Head of the Research Institute of Applied Communication in Cyprus. His research interests and objectives are in the areas of television programming structure, television programming diversity and quality, public broadcasting political communication and marketing management. One of the most significant projects in which he is engaged is the development of the Theory of the Metamorphosis of the Minimum Differentiation in television programming content.
Andreas has been a Visiting Research Fellow at Antwerp University in Belgium, at the Central European University in Hungary and at Fordham University, NY.