Dr. Georgios Maris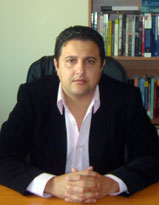 POSITION
Lecturer of European Political Economy and Governance
CONTACT DETAILS
Telephone: +357 2684 3417
Email: 
g.maris@nup.ac.cy
BIOGRAPHY
Georgios Maris is currently Lecturer in European Political Economy and Governance at the Business School (Neapolis University Pafos), and Visiting Research Fellow at the Department of Politics and International Relations, Centre for International Studies (University of Oxford). It is also Special Teaching Staff at the Department of Social and Political Science abd the Department of Economics (University of Cyprus). His academic research focuses on Political Science, European Studies, European Political Economy, and International Political Economy.
In his current work, develops an alternative model for the systematic examination of European integration, by stressing the importance of asymmetric power of the Member States.
Georgios has also served as a consultant for the provision of technical assistance to the Greek authorities to support the establishment and implementation of an action plan for an effective SME policy in Greece at the Task Force for Greece (European Commission).
Georgios held numerous fellowships and grands, including from the Centre for Hellenic Studies Anniversary Scholarship (Kings College London), and the Greek State Scholarships Foundation (IKY).
He obtained his doctorate (DPhil) in Political Science and International Relations from the University of the Peloponnese, a MA in European Studies from King's College London, a MSc in Political, Economic and International Relations from the University of the Aegean and a BSc in Public Administration from the Panteion University (Athens).
He already has an extensive list of publications in international scientific journals and collective volumes and he is also participate in major international scientific conferences in Political Sciences and International Relations.