Facilities
Reading Rooms
The Library has 36 reading seats. Also, a Silent Room is available at the rear of the building of the Library. The Silent Room has 36 seats available and is open according to the opening hours of the Library.
The Library opening hours are:
Monday to Friday: 08:00-20:00
Saturday: 09:00-17:00
Sunday: 09:00-12:00
The Library is closed during the official day-offs, while during the summer season a special schedule is applied. For futher information please contact the Library.
Reading Rooms Rules
Seat booking is not allowed.
All personal items should not be left unattended in the Library premises. The Library is not responsible for any loss or damage to personal items. Each object is left unattended will be collected by the Library staff and will be kept in the Library Service Desk.
Users are kindly asked to conduct quiet conversations, otherwise they will be asked to leave the room.
Library rules apply also to the Silent Room.
Computer Room
The Computer Room gives the Library users the opportunity to use and manage all kinds of educational and informational material, such as CD-ROMs, music CDs, DVDs, multimedia files, etc. By using this equipment, almost all forms of scientific material provided by NUP Library in electronic form is accessible by the users.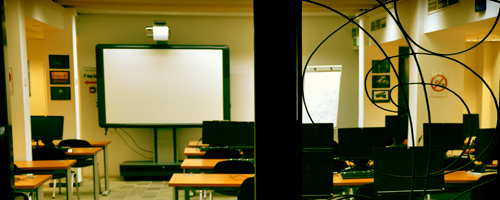 Wireless Network
The Library's wireless network is addressed to users wishing to access the internet from their mobile devices (laptops, cell phones, iPads, etc.). It is available in the entire area of the Library, but is required from the user to authenticate before. Users are encouraged to ask for help from the Library staff. Detailed information and technical support is always available from the IT Department.